LONDON, England, UK – Alan Warburton knew his neighbor had died a year earlier and that the apartment had sat vacant ever since. One day he saw a cleaning crew emptying out the apartment and realized they were throwing everything away he got the ok to take some of the artwork his deceased neighbor, (George Westren) had created.
On June 20th, 2022, Alan posted on twitter —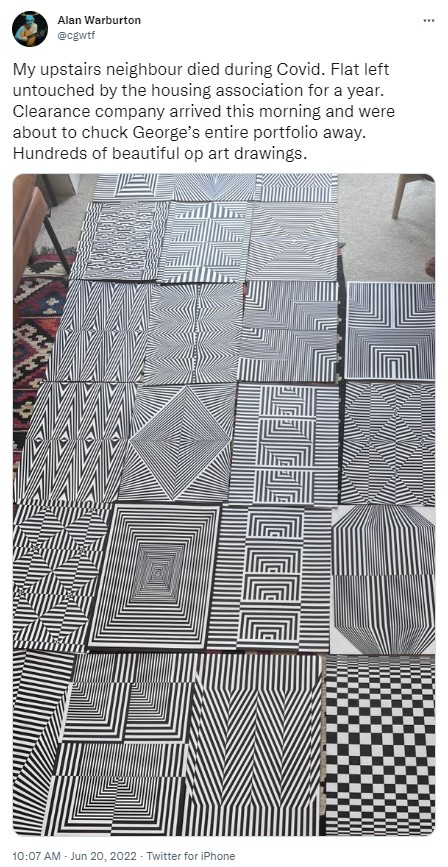 Alan posted a bit more about George, that "George had a battle with addiction and anxiety, and started working in colour once he got sober."
Alan tweeted some more pics of George's work.
A week later the tweet had nearly 10,000 retweets, another 750 "quote tweets" and over 100,000 "Likes". Major news outlets picked up the story and a full scale effort to create a legacy for George and his work was underway.
To start, a website, George Western Artworks was created at https://georgewestren.org/.
On the site, Alan and others are looking to sell prints of George's works to cover the costs involved in getting the originals properly preserved and to put on exhibitions of George's work.
In the "About" page of the website, Alan explains how he knew George, and how "Art saved George's life".
Battling alcoholism, George had seen an exhibit of art by optical artist Bridget Riley and began drawing black & white geometric designs.
Back in 2008, Alan, who does computer / video graphics had made a short video with George's designs and his voice and posted it to the YouTube page of the art group they both were involved with.
In the clip, George tells Alan, "geometric lines kept me on the straight and narrow".
This article was posted in hopes of helping Alan continue to create a legacy for George.
###